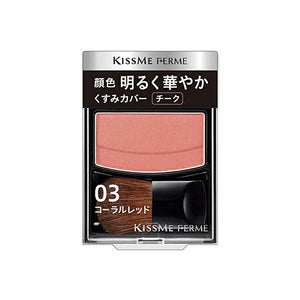 Item Name

KissMe FERME

Keywords

Makeup, cosmetic solution, skin, care

Product Details

Natural finish with translucent coloring. A blush that covers dullness and brightens the complexion.
The natural luster creates a youthful and firm three-dimensional effect. It spreads softly and fits smoothly.
Maintains freshly applied beauty. Comes with a large brush for clean gradation.
Uses natural horse hair. Contains moisturizing ingredients: chamomile extract

Precautions

Please do not use in the case of the skin of such Injury, swelling, eczema, rash. Please monitor abnormality with close attention, so it does not occur on your skin.
When the product disagrees with your skin, please do not use in the following cases and discontinue use, because it may worsen the symptoms, we recommend that you consult your doctor and dermatologist.
(1) If during use, abnormalities such as redness, swelling, itching, and irritation and color missing (such as white spots), or darkening abnormalities appear.
(2) when an abnormality to your skin occurs when you use such as abnormalities under the direct sunlight appeared.
When applying onto the top of the eyes be careful so the product does not enter the eyes, if the product enters the eyes, please rinse immediately with clean water without rubbing.
Use clean hands to handle in product, and please close the lid tightly after use. Also, please do not put the contents of product back into the container again once it is taken out.
Avoid direct sunlight, heat, and humidity, please keep out of reach of children.