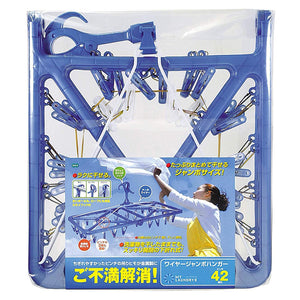 Product Features & Tips

Straps of this functional hanger would not tear easily as it is made with metal. The pinch clips can be replaced when they are damaged.

Product Details

Product Size(cm):Approx. 35*77*32cm
Product Weight(g):704
Product Materials:(Body)Polypropylene (Wire)PP Coating Iron Wire (Pinch Hanging String, Spring) Iron
Made In:China

Product Introduction

OHE & CO., LTD was established in 1951 and began by selling cleaning brushes and sponges. These cleaning products are still best sellers until today. From 1972 OHE & CO started to plan, produce and distribute household products. Now OHE & CO manufactures general articles for daily use such as kitchen ware, bath and toilet products, laundry products, cleaning supplies and storage items. OHE & CO is one of the leading manufacturers of Japanese household goods with factories in Japan, China, Hong Kong and Thailand. Products by OHE & CO are trusted and enjoyed by many globally.