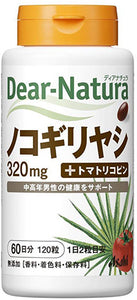 Item Name

ASAHI

Brand Name

Dear Natura

Product Size

120 Tablets

Symptoms Keywords

-

Product Details

Two tablets contain 320 mg of saw palmetto fruit extract. Plus tomato-derived carotenoid "lycopene". To support the health of older men.

Guidelines

Do not exceed indicated recommended daily intake.
Stop using in case of unexpected reaction or illness.
A list of 27 allergens/specific raw materials is printed on the package label. Confirm the ingredients before consuming to avoid unwanted reactions.
Consult a doctor before using if you are pregnant or undergoing medical treatment.
Supplements are foods and are appropriate for intake at any time. For optimal digestion and absorption, take after meals. Intake recommendations at other times are noted above if applicable.
Eat a balanced diet including grains, proteins and vegetables.

Usage / Dose

daily intake (2 tablets).

Precautions

Take with water or lukewarm water without chewing.
Although folic acid aids healthy growth and development of fetus, there is no benefit to taking a higher dose.
If you have food allergies, confirm the ingredients before consuming to avoid unwanted reactions.
Consuming a large quantity of this product does not cure disease or promote health. Please follow the recommended daily intake.

Ingredients

Sawberry fruit extract, Gelatin, glycerin, beeswax, tomato lycopene

Precautions for storage and handling

Store in a cool and dry place. Avoid direct sunlight, high temperatures and high humidity.
Keep out of the reach of children.
Keep the package tightly closed and consume promptly after opening.